FORZA Alu110 Lever Type Football Goal Wheels
FORZA Alu110 Lever Type Football Goal Wheels
FORZA Alu110 Lever Type Football Goal Wheels
Move Your Goals
Simply lift the metal lever and away she goes! Move your goals into position with the greatest of ease.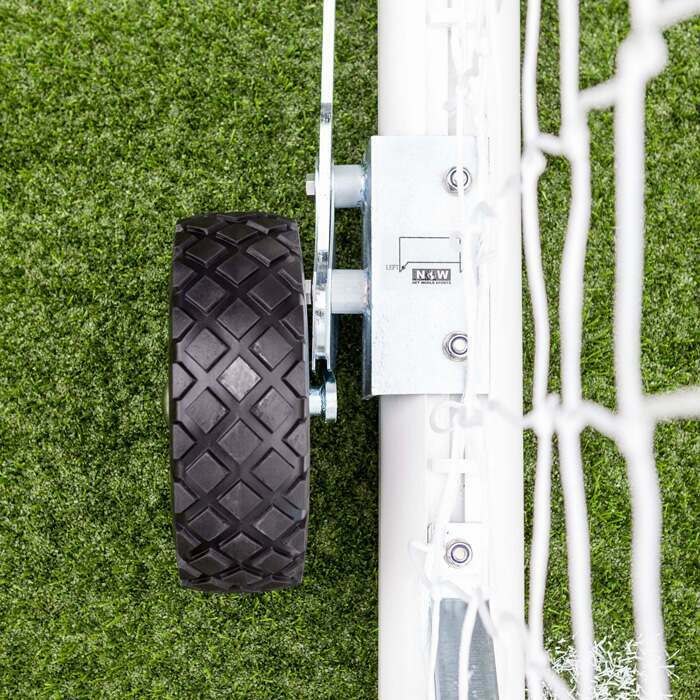 Extra Wide Wheels
The extra wide nature of the wheels means they offer greater amounts of weight distribution to keep the goals stable.
Puncture Proof Perfection
These puncture proof tyres will guarantee longevity when moving your football goals around the pitch.
Description
Transport Your Portable Football Goals Safely And Soundly With These Replacement Wheels & Brackets
These high quality replacement Alu110 wheels and brackets guarantee your football goals can be moved into position with the greatest of ease imaginable. Add these wheels to any freestanding football goal with a channel to fully customise the footballing experience.
The unique lever mechanism ensures that these football wheels will lift an impressive 100mm off the ground, ensuring a smooth glide across both grass and synthetic pitches. When your goal is in place simply lower the lever and your football goals will sit steady and ready for instant use.
Take the strain out of lifting your goal with the high quality lever lift wheel system. The innovative mechanism does all the lifting for you, reducing the likelihood of incurring injury during use. This system represents the safest way to lift goals, allowing you to do so without over-exerting your energy.
The wheels have been specifically designed with a larger than average width in order to evenly disperse the weight, ensuring the goals are less likely to sink into a wet or boggy football pitch. The wheels are also 100% puncture proof allowing for peace of mind when it comes to the longevity of your football equipment.
PLEASE NOTE:Wheels are designed to fit the FORZA Alu110 goals and other branded goals with an integral channel that the wheel bracket bolts to plus an aluminium profile of 100 x 100. Please contact us to confirm the compatability of your goal.
Specifications
Dimensions
Wheel is 260mm in diameter and 85mm wide

Materials
Micro-cellular polyurethane tyre on polypropylene wheel
Heavy duty steel brackets are zinc plated for long life

Miscellaneous
Wheel colour = black
Bracket colour = silver
Wheels have greased internal bearings for smooth flowing operation
Set comprises of stainless steel nuts, bolts and washers
Single order will include 2 wheels. Set of 8 will include 4 pairs of wheels
All wheels come labelled Right & Left for ease of assembly
You may also like
Stop That Ball™ - Ball Stop Net & Post System
AED699.99
FORZA Match Football [2016]
AED64.99
7.3m x 2.4m FORZA Alu110 Freestanding Football Goal
AED6,999.99
6.4m x 2.1m FORZA Alu110 Freestanding Football Goal
AED6,859.99
3.7m x 1.8m FORZA Alu110 Freestanding Football Goal
AED5,599.99
Recently Viewed
5m x 2m FORZA Match Football Goal Post
AED899.99