FORZA Football Rebound Wall
FORZA Football Rebound Wall
Football Rebound Wall - Spring-Loaded Football Training Rebounder
Top Football Training Rebounder
Using this rebound wall in training sessions is a fantastic way to improve footballs most vital skills such as basic passing, first touch, and ball control.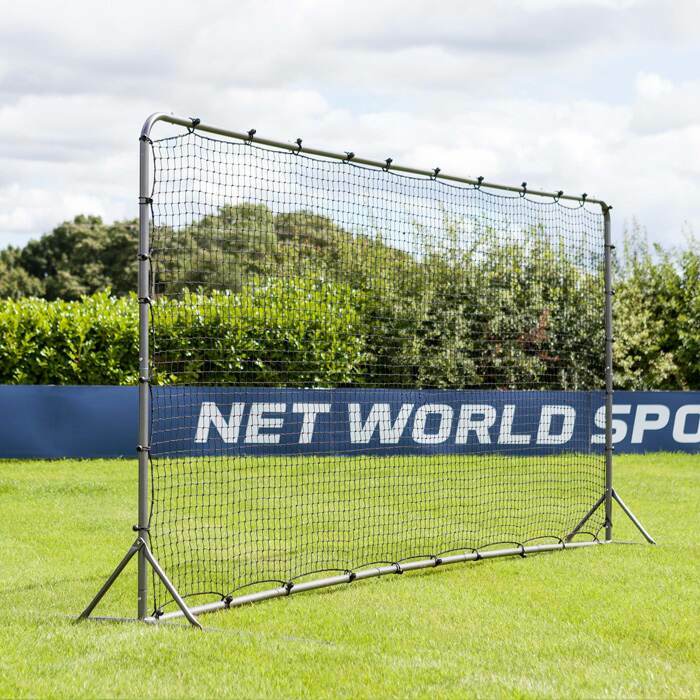 Realistic Football Rebounding Net
With a taut net, it reacts to how hard the ball is hit against it. The harder the hit, the further the rebound & the faster your reaction skills must be!
Multi-Skill Football Training Tool
Add a new and fun way to improve skills in your training regime. Keeps players engaged and offers a wide variation of different challenges.
Description
FORZA Football Rebound Wall – Freestanding Spring-Loaded Football Rebounder For Multi-Skill Training Drills
This versatile football rebounder is perfect for working on a wide variety of techniques, including first touch, ball control, passing, shooting and positioning. Designed to provide unpredictable bounces which are conducive of the dynamic nature of a real-match, the football training rebound wall is high quality training equipment for simulating matchday scenarios. Available in two sizes, the large football rebounder net can be applied to any training sessions.
Dual-sided football training rebound wall with an extra-large rebound net for solo or simultaneous training drills
Football training equipment for various skills including first touch, heading, passing, shooting and ball control practice
Manufactured with a heavy duty galvanised steel freestanding rebounder frame suitable for all surfaces
Football rebounder training aid designed with a 2mm spring-loaded net with reinforced edges
Choose between two football rebound wall sizes for varying challenges – 3.6m x 1.8m or 4.9m x 2.1m
Due to its freestanding design, the all-surface football rebound net can be used in the back garden just as effectively as it can be applied to intense club training sessions. The portable football rebounder is made with a high-strength galvanised steel frame which retains a lightweight feel allowing it to be moved around with ease. Due to the two size options, this premium football rebounding net can be used by both youth and first team players.
This football kickback rebounder features a taut springy net which provides high velocity rebounds. The 2mm thick spring-loaded net features reinforced edges and is incredibly durable for consistent skill training sessions. The double-sided football training rebounder wall is suitable for professional footballers as well as amateurs, with a high value yet top quality design which is accessible to anyone who wants to improve their technique.
Specifications
Dimensions:
Available sizes (Length x Height)
12ft x 6ft (3.65m x 1.82m)
16ft x 7ft (4.87m x 2.12m)
Materials:
2mm net with reinforced edges
Sturdy galvanised steel frame
Miscellaneous:
Large and highly spring-loaded, double sided rebound area (can be used for individual or multi-player training)
Recommended for use in football training practice, as well as in the garden
Highly sturdy, robust and durable construction
Frame folds away for easy storage
You may also like
FORZA Pop-Up Target Goals
AED129.99
FORZA 1.8m Spring Loaded Slalom Training Poles [34mm]
AED259.99
5m x 1.2m FORZA Alu60 Football Goal
AED2,099.99