Protein Shaker Bottle (700ml)
Protein Shaker Bottle (700ml)
Semi Translucent BPA Free Protein Shaker Bottle & Wire Blending Ball
Precise Measurements Every Time
Markings in ml & oz run up the side of the protein shaker allowing you to accurately measure out your protein shakes time after time.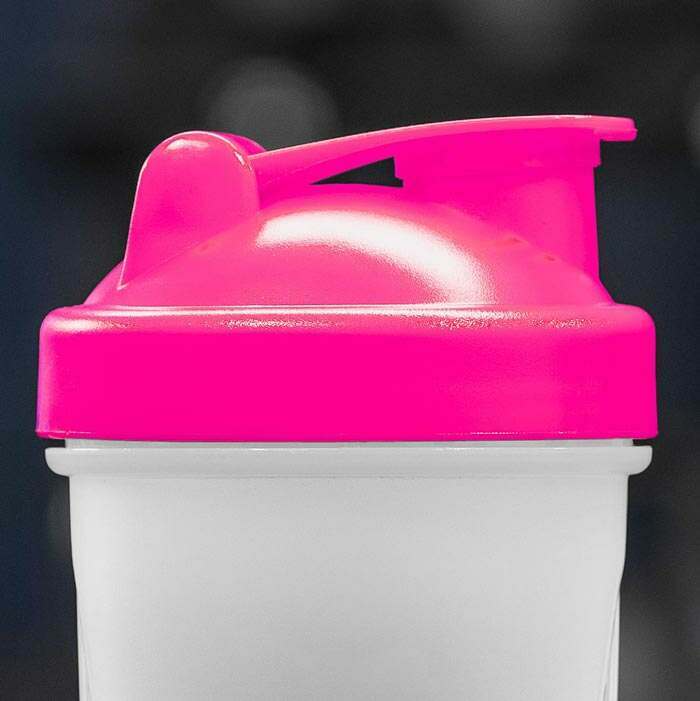 Secure Click Cap Spout
The 700ml plastic protein shakers screw top lid has a clickable cap to ensure liquid remains in the bottle when shook or inside a gym bag.
Wire Ball For Smooth Shakes
The included metal ball acts as a whisk within the BPA free plastic protein shaker. This prevents lumps from occuring in your protein or diet shakes.
Description
BLEND SMOOTH POWDERED DRINKS WITH THIS 700ML SHAKER BOTTLE AND WIRE MIXING BALL
A 700ml (24fl oz) protein shaker manufactured from semi-translucent BPA free plastic. Each bottle has been embossed with convenient measurements that run up the bottles side to help you precisely measure the amount of liquid poured into the blender bottle. Fitted with a secure, screw top lid and click cap spout, this gym shaker will not leak whilst you blend powdered supplements. Available in a range of colours, these semi-translucent protein shakers are a must have gym accessory.
A protein shaker cup that holds up to 700ml (24fl oz) of liquid.
Available with a blue, pink, black, red or yellow cap with a translucent bottle base.
Measures 23cm (9 inches) tall and 10cm (4 inches) wide.
Wire blending ball breaks down powder evenly to create smooth drinks.
Oz and ml measurements embossed on shaker bottle's side.
Tight fitting screw top lid with click cap spout create a leak proof seal.
Manufactured from semi-translucent BPA free plastic.
Can be purchased individually, in packs of 3, 20 and jumbo packs of 72.
Mixing powdered drinks is simple thanks to the wire blending ball, which easily stirs powdered supplements to ensure your drinks are consistently smooth. You can shake this blender bottle without any worry of leakage due to the tight seal created by the screw top lid and click cap spout. These features guarantee neither the cap nor the shaker bottle's lid will open whilst you are blending protein shakes or meal replacements.
Constructed from semi-translucent BPA free plastic this large 700ml (24fl oz) protein shake mixer bottle features an embossed measuring scale which runs vertically on the bottle. With units displayed in both ml and oz, you will be able to accurately add your preferred amount of liquid to your powdered drinks, regardless of which measuring system you use.
This 23cm (9 inch) tall blender bottle is available individually, in packs of 3, 20 and jumbo packs of 72, allowing you to fuel an entire sports team before training sessions or after matches.
Specifications
Dimensions
Bottle height 23cm (9 inches) with lid
Bottle width is 10cm (4 inches) wide
Material
Manufactured from BPA free semi-translucent plastic with blue, pink, red, black or yellow lid
Miscellaneous
Holds up to 700ml (24fl oz) of liquid
Wire mixing ball is included
Measurements in ml and oz are displayed on the side of the protein shaker
Leak proof screw top lid and click cap spout
Available in blue, pink, red, black and yellow
You may also like
Foldable Water Bottle Carrier
AED79.99
FORZA Resistance Speed Chute
AED79.99
FORZA ASTRO Slalom Poles With Bases [1.5m or 1.8m High]
AED709.99
Sports Drink Water Bottles (750ml)
AED19.99
Recently Viewed
FORZA Football Goal Carry Bag
AED99.99
Vermont Skillsbuilder Tennis Set
AED2,899.99
5.6m x 2m (18.5ft x 6.5ft) FORZA Alu110 Socketed Football Goal
AED5,799.99
16 x 4 Replacement Football Goal Nets
AED279.99
Fully Customizable Sports Box Trailer