Stop That Ball™ - Ball Stop Net & Post System
Stop That Ball™ - Ball Stop Net & Post System

Professional Stop That Ball™ System – Ideal For The Garden
Innovative Pivot System
Unique to other ball stop nets, the Stop That Ball features a pivot system every 3m, allowing you to adjust the angle of the netting to create a surrounding fence with ease.
Premium Mesh Netting
The 48mm square mesh netting has been crafted from 3mm HDPP twine allowing it to absorb even the heaviest of ball impacts. UV treated, it's 100% weatherproof too!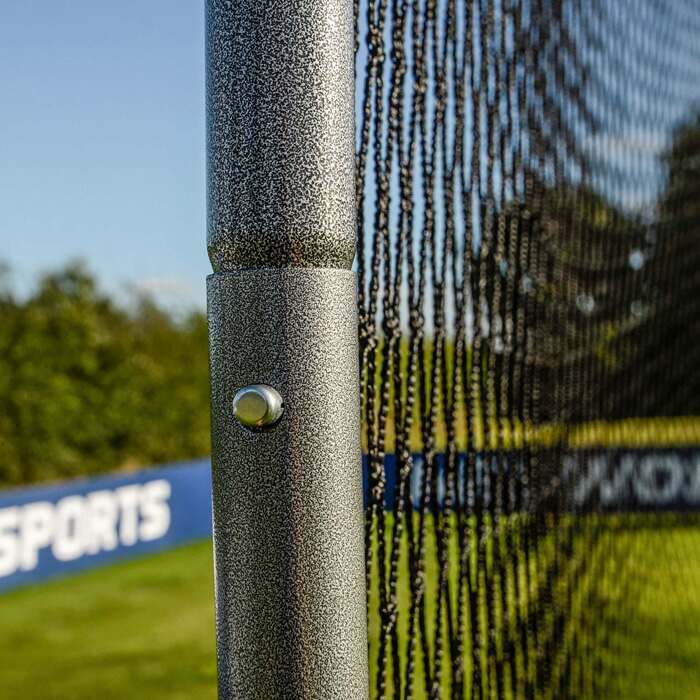 Ultra Heavy Duty Frame
Manufactured from 34mm galvanised zinc plated steel, longevity is guaranteed. Elite construction is scratch-resistant & features a powder coating for increased strength.
Description
Innovative Ball Stop Net System Will Keep Your Balls Close By
This exceptional Ball Stop Net System will not only keep stray balls close by, but also offer your garden first class protection for those shots that don't quite go to plan. Whether you're trying to perfect your free kick techniques or you're putting your drop-kicking skills to the ultimate test, our Stop That Ball™ System guarantees to keep everyone satisfied. Standing at an impressive 3m tall, this entirely freestanding structure is available in lengths of 3m, so you can be sure to find the perfect size to fit your sporting arena.
Professional Ball Stop Net System with adjustable angle design
100% freestanding making it perfect for the garden
Innovative extender units allow you to change the angle every 3m
34mm zinc plated, galvanised steel frame with powder-coating finish
48mm square mesh netting created from 3mm knotless polypropylene twine
3m tall available in lengths of 3m, 6m, 9m, 12.2m & 15.2m
Manufactured using ultra heavy-duty materials, this ball stop net system is guaranteed to last. The frame, which is super-easy to assemble thanks to its unique button locking system, has been engineered using 34mm galvanised zinc plated steel which features a powder coating for further protection against rust and corrosion. The structure's innovative design features hinged extender units which allow you to adjust the angle of your Stop That Ball™ System every 3m, so you can really mould it to best fit your situation.
As well as an impressively hard-wearing steel frame, our Stop That Ball™ comes with a net to match. The 48mm square mesh construction has been created using 3mm knotless polypropylene which is designed to easily absorb heavy impacts from stray balls. For further strength & durability, the netting has been UV stabilised and features a roped edge, giving it exceptional weather-resistance so you can leave it outside all year round. This world-class ball stop net system is completely freestanding, allowing you to keep your garden in tip top condition!
PLEASE NOTE: For maximum stability, we recommend using the anchor pegs provided, particularly in windy conditions. In stormy conditions, we recommend you lie the entire structure flat to prevent it or the surrounding area suffering damage.
Which Size Ball Stop Net Is Suitable For My Football Goal?
| | |
| --- | --- |
| Stop That Ball™ Length | Football Goal Dimensions |
| 10ft | 5ft x 4ft, 6ft x 4ft |
| 20ft | 8ft x 4ft, 8ft x 6ft, 3m x 2m, 10ft x 6ft, 12ft x 4ft |
| 30ft | 15ft x 7ft, 16ft x 4ft, 16ft x 7ft, 12ft x 6ft |
| 40ft | 18.5ft x 6.5ft, 21ft x 7ft, 16ft x 7ft, 24ft x 8ft |
| 50ft | 24ft x 8ft |
Specifications
Stop That Ball™ Specifications
Size:
Height: 3m (10ft)
Available Widths: 3m, 6m, 9m, 12.2m, 15.2m | 10ft, 20ft, 30ft, 40ft & 50ft
Length (Support Legs): 89cm | 35in
Materials:
Netting: Ultra-Strong 3mm HDPP Twine with 48mm knotless mesh (Black)
Netting: UV treated & rope-edge for excellent durability indoors & outdoors
Frame: Manufactured from heavy-duty 34mm steel (powder coated)
Frame: Zinc plated & galvanised for supreme weather-resistance
Frame (Feet): High-quality rubber gives freestanding structure excellent grip on all surfaces
Miscellaneous:
Modular design allows you to extend it to ANY length in multiples of 3m
All new design allows users to change the angle every 3m
Entire structure is completely freestanding & 100% weatherproof
Heavy-duty metal bolts, Allen key and spanner provided with the system for smooth installation
You may also like
Ball Stop Net & Post System [3.7m/6m High - Removable]
AED3,399.99
Removable Aluminium Ball Stop System Posts (12ft/20ft High)
AED1,534.99
48mm Multi Sport Ball Stop Netting [Standard Size]
AED9.99
1.8m x 1.2m FORZA Alu60 Football Goal
AED1,124.99
Football Goal Target Sheets
AED159.99
Recently Viewed
Pop-Up Stop That Ball™ - Ball Stop & Post System
AED199.99
FORZA Flash Pop-Up Football Goal (Pair)
AED169.99
Tennis Court Target Net
AED99.99